01/10/2021

Job Training Partnership with PCC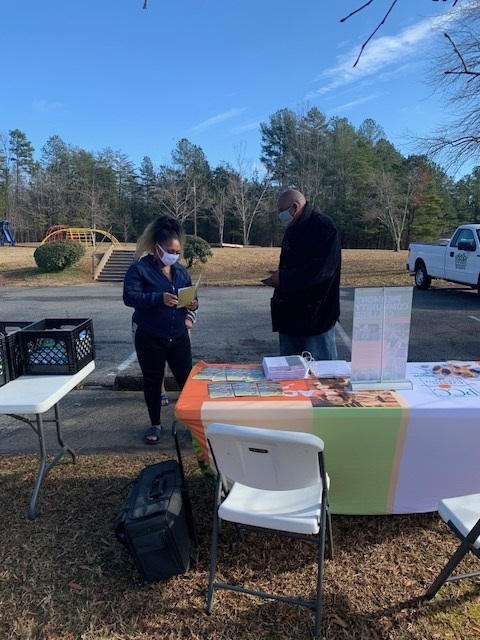 PCC recruiter talks to RHA resident about classes offered.
ROXBORO, N.C.—Roxboro Housing Authority (RHA) and Piedmont Community College (PCC) are ready to help public housing residents and others with training and employment opportunities in Person Co.
"The goal of the partnership is to spark an interest in our residents about working at local companies to get paid a good wage with benefits in Person Co.," said Executive Director Felts Lewis. "This is one of several self-sufficiency activities that Roxboro Housing Authority is offering through its partnership with PCC."
PCC staff are available to describe and address training requirements to prepare for positions offered primarily by local manufacturing companies located in Person County. PCC's Human Resources Development Office assists individuals who are unemployed or underemployed to gain required skills.
PCC representatives also can answer questions about other opportunities offered by the College involving academic (associates degrees) and other options.
Over 80 public housing and non-public housing residents are currently on the Housing Authority's Section 3 Program List. Section 3, part of the U.S. Housing Act of 1937, mandates that any entity receiving HUD funds must establish contracts, provide jobs and/or job training using low- and very-low income persons.
RHA residents are the primary target audience for Section 3; however, persons that live in an area where federal funds through HUD are spent also qualify, including citizens in Person, Caswell, Durham and other contiguous counties.
Planned recruitment events this month at Harris Gardens, Lee Gardens and Weatherly Heights communities were postponed due to COVID-19 concerns.
In addition to providing this effort, PCC and RHA have partnered to provide adult education and basic computer classes up to early 2020 prior to the coronavirus pandemic.
For more information about this event and about Section 3 at RHA, contact Larry Mayfield, family self-sufficiency coordinator, at (336) 647-4340. Also visit www.roxboroha.com for more information about the public housing program in Person Co.
# # #