09/16/2022
RCRC Golf Challenge for Affordable Housing a Huge Success
The winning team (shot a 63 score in 18 holes) at inaugural RCRC Golf Challenge tourney held at Caswell Pines Golf Club in Yanceyville, N.C. to help RHA and other local residents obtain quality housing (Pictured l-r are Oscar Williams, Mike Milner, George Davis and Tyrone Wilson.)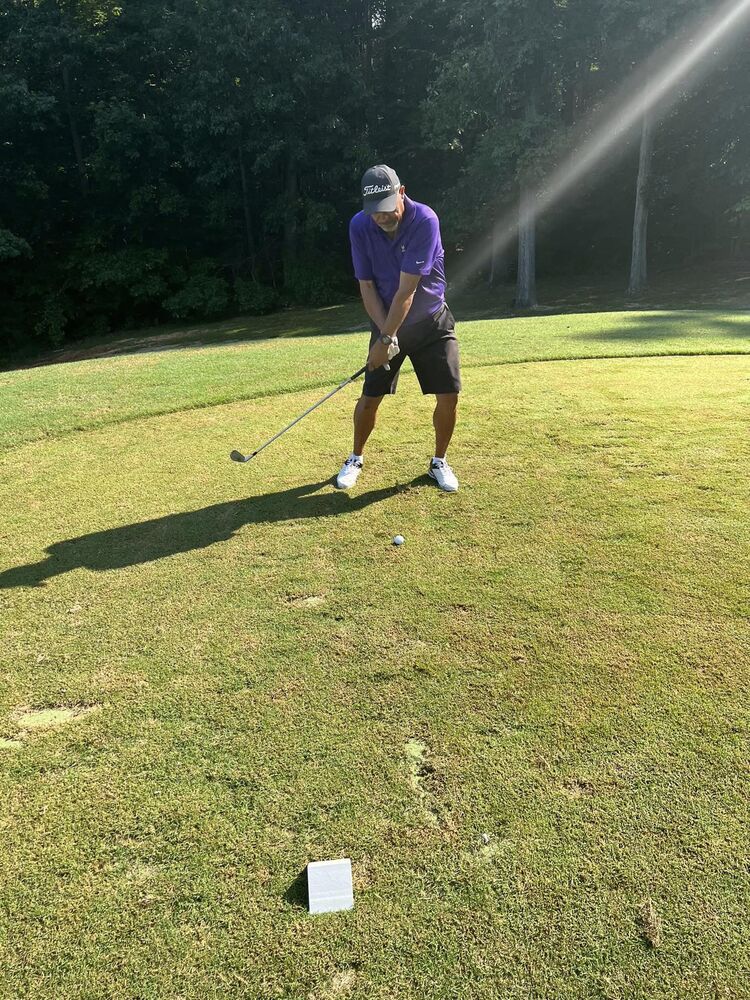 George Davis travelled from Md. to N.C. to attend the RCRC Golf Challenge.
Inaugural Charity Golf Tournament Mixed Fun with Needed Support for More Affordable Housing
YANCEYVILLE, N.C.--Over 75 local and regional golfers and supporters of increasing the amount of affordable housing in Person Co. descending upon Caswell Pines Golf Club for the inaugural RCRC Golf Challenge Friday morning. Over $5,000 was raised toward affordable housing needs in Roxboro and Person Co.
"I was pleased as was everyone else with the overall attendance, and support," said Leon Holloway, RCRC chairman. "This was the first event of any kind for us, which was outstanding."
2022 RCRC Golf Challenge sponsors included the following:
Bronze Sponsor --$1,000
The Banks Law Firm
Enitech It and Support
Hole/Tee Box Sponsor--$500
Roxboro Savings Bank
Piedmont Community College--Career and College Readiness
Stogner Architecture
Bryant-Durham Services (HVAC, Electrical)
Supporter--$350
Taylor Business Products
Datco, LLC
H&M Logging
Ke'Jeah's Logging
Martin Enterprise LLC
Several donors of $100 or less also contributed. Sponsors with a link to their organization can be found here at the RCRC Golf Challenge website.
First Place--Team 1 (63--Tie-Breaker)
George Davis
Oscar Williams
Mike Milner
Tyrone Wilson
Second Place--Team 8 (63)
Clarence Lawson
Lawrence Wilkerson
Arnold Woody
Tommy Johnson
Third Place--Team 7 (64)
Peter Baker
Donnie Winstead
Thomas Bass Jr.
David Strum
An awards luncheon took place immediately following the golf challenge with Smokey Dave's BBQ of Roxboro as the caterer. First, second and third place awards (gift cards) were given to the winners along with closest to the pin and longest drive awards (sleeve of name-brand golf balls.)
Lewis thanked the sponsors for their support. RCRC thanks Samantha Bagbey of Roxboro Area Chamber of Commerce for serving as cart refreshment person.
RCRC President Felts Lewis introduced local government leadership in attendance (Person Co. Assistant County Manager Katherine Cathy and Roxboro City Councilman Peter Baker.) Lewis introduced RCRC Board of Directors: Leon Holloway, chairman; Charlene Wilson, vice chairwoman; Linda King, secretary/treasurer; Tara Smith, director. [Directors Jeff Kisner, Angela Brown were unable to attend.]
RCRC, an affiliate non-profit of Roxboro Housing Authority, hosted the inaugural RCRC Golf Challenge to raise funds to address homelessness and to provide affordable housing in Roxboro and Person Co. RHA receives over 70 calls a month from persons in the community that have no place of their own to call home.
For more information, call Felts Lewis at (336) 599-8616.