Family Self Sufficiency (FSS)
Family Self-Sufficiency (FSS) Coordinator is Mr. Larry Mayfield. He can be reached at lmayfield@roxboroha.com or (336) 647-4340.
He helps residents that volunteer to participate in this free program with ways to accomplish their goals of living without using government assistance programs. Personal finance, job training, job referrals, first-time homebuyers classes and more are provided to FSS participants. You must be a Roxboro Housing Authority resident to participate.
Participants can go a step further by committing to getting employment and having a portion of each rent payment go toward an escrow fund just for themselves. After five years when all goals set by the participant are met, he or she can collect all the funds...free money! Funds can be used for the resident's purposes and are not tied to home buying for which most FSS graduates use said funds.
To date, Roxboro Housing Authority has awarded over $30,000 to FSS program graduates!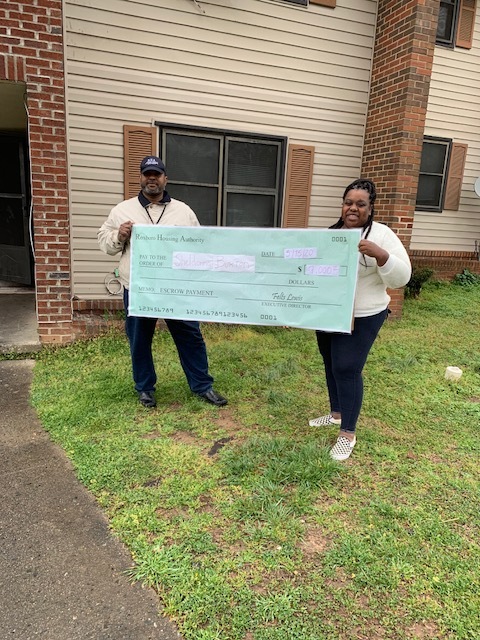 Larry Mayfield (l) with FSS Graduate Sheldonna Burton (r). Ms. Burton earned over $7,000 for living without welfare, working, paying rent and meeting her goals in seven years.
Contact Mr. Mayfield about signing up for the FSS program today!
Below is a summary of other events and activities offered by FSS.
EXPO/HUD Family Unification Events
For two years RHA has sponsored an annual expo event for residents and the general public to come on site to learn, discuss and gather information about educational opportunities, home ownership, financial literacy along with health and safety tips. Over 200 people attend EXPO, seeking contact with up to 30 Person Co. non-profit organizations, medical providers, local community college, fire/rescue/law enforcement agencies. Grilled food, cotton candy and snow cones, games, t-shirt/hats, gift cards and other giveaways are a big hit among attendees. Takes place during the week of Mother's Day or Father's Day. This event is one of the better ones of all public housing authorities in North Carolina.
RHA After School Program
The agency provides STEM instruction, tutoring and snacks for elementary to middle school students. Located at the newly renovated Harris Gardens Community Room, the program provides a warm, caring environment. This program runs from 2:30 p.m. to 4:30 p.m. Monday through Thursday. The grant-funded program through the N.C. Council for Women and Youth Involvement is free to residents of Harris Gardens Apts. at this time. Instruction is led at this time by Ms. Charlene Bumphus, a certified teaching professional. Volunteers are welcome after screening. Efforts are in the works to expand this award-winning program to other RHA communities and the general public. Hot meals for participants are coming soon!
4-H After School Program
RHA is currently working with the Person County 4-H Director to provide bi-weekly after school program targeting both male and female students ages 10-16 years old. This is a curriculum-based program entitled "Health Rocks". The goal of the program is to bring young people and their families closer together by producing the negative impacts of tobacco, alcohol and drug usage. We assist with homework and offer a safe forum to discuss personal concerns on a one on one basis. Our goal is to be the first predominately black 4-H group in Person County.
Young Ladies Youth Initiative
"CLASSY" Confident, Lovely, Attractive, Smart, Successful, and Young.
Our belief is that every young girl is precious with unique gifts and strength. We offer this program in efforts to combat teen pregnancies and failures to achieve educational goals. We offer a safe meeting facility for girls only. Our target audience is ages 8-16 years old. We are currently averaging 10-12 girls per week. There is an adult program coordinator that uses a self-development curriculum that focuses on health relationships, self-esteem, self-development and smart goal setting.
Young Men Youth Initiative
The program was started by local law enforcement officials. The goal was to develop and foster a positive relationship between our young males ages 8-18 and the police officers that patrol our communities. We provide a variety of recreational and athletic activities as a safe forum for both one-on-one and group interaction. We strive to provide an alternative to gang interactions and criminal activities. Summer activities serve to enhance the quality of life and provide a safe outlet while schools are closed.
The Second Chance Initiative
"Fathers on the Move"
We have partnered with a national entity to address the needs of our adult males who are taking the steps to get their lives on track. We provide motivational session to empower low income men to take pride in their abilities while providing employment and educational opportunities through our "Section 3" program. Weekly meetings are held at our Weatherly Heights community center. The average attendance has been 10-12 men per session Future plans include extending this process to include larger businesses within Person County. Expanding the practice to include positions for those with less than perfect backgrounds and felony convictions.
Scholarship Opportunities
Click here for information and application regarding the Carolinas Council for Housing Redevelopment and Code Officials scholarship.
Click here for information and application regarding the National Association of Housing and Redevelopment Officials scholarship.
Information about scholarships at Piedmont Community College is coming soon.
FSS In the News
Second Chance Initiative: Roxboro Housing Authority/Fathers on the Move Inc. Partnership to Help Local Men Find Stability